About Us
C.Aprile Takeaway is situated on 10 Kilmacud Road Lower in Stillorgan. This wonderful International takeaway serves a wide range of Burger, Kebab & Fish options, and also regularly has special deals for your local area. You can order your takeaway food online from here right now on JUST EAT and check out the reviews below to see what's the tastiest!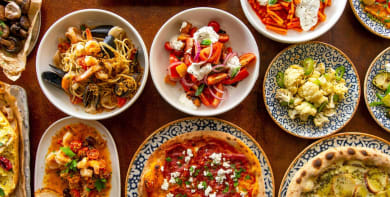 Reviews
Joan
"Very efficient & good service. Thanks"
06/01/2022
Hugo
"The chips and onion rings didn't had any salt, you should have the option to add salt while ordering. The Burgers were very good, Class!"
17/12/2021
User
"I really enjoyed my fish and chips. I'd asked for salt and vinegar to be put on them and it was done. Delicious"
10/12/2021
Max
"Good food, friendly folk, excellent wait times. Can't go wrong at all"
25/11/2021
Menu
Contact Us
Find Us
10 Kilmacud Road Lower, Dublin, STILLORGAN
Opening Hours
Please note, delivery times may vary.
We deliver to
Ballsbridge, Belfield, Blackrock, Blackrockbooterstown, Blackrockcarysfort, Blackrockcentral, Blackrockglenomena, Blackrockmonkstown, Blackrocknewpark, Blackrockseapoint, Blackrockstradbrook, Blackrocktemplehill, Blackrockwilliamstown, Booterstown, Brennanstown Road, Carrickmines, Clonskeagh, Clonskeaghbelfield, Clonskeaghroebuck, Clonskeaghwindy Arbour, Cornelscourt, Deansgrange, Donnybrook (Dublin), Dublin 2, Dundrum, Dundrumbalally, Dundrumkilmacud, Dundrumsandyford, Dundrumtaney, Foxrock, Foxrockbeechpark, Foxrockcarrickmines, Foxrockdeansgrange, Foxrocktorquay, Galloping Green, Glencullen, Goatstown, Irish Town, Kill Of The Grange, Kilmacud, Kilternan, Leopardstown, Monkstown, Mount Merrion, Pembroke, Ringsend, Roseville, Sandyford, Sandymount, Stepaside, Stillorgan, Stillorgandeerpark, Stillorgankilmacud, Stillorganleopardstown, Stillorganmerville, Stillorganmount Merrion, Stillorganpriory, Ticknock, Windy Arbour